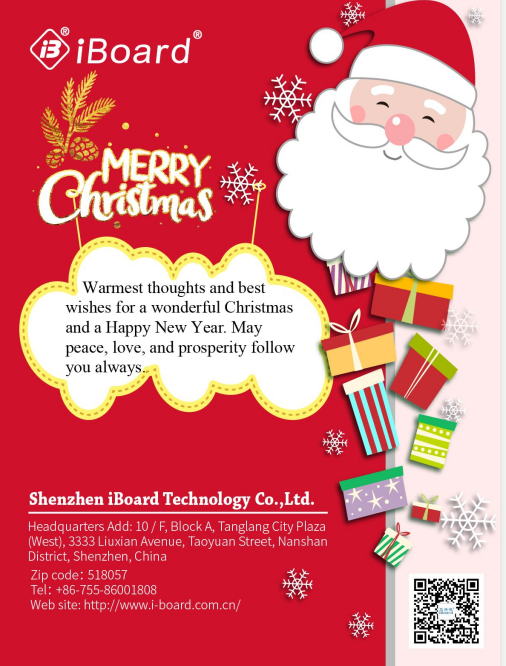 There is a kind and happy man called Saint Nicholas. With a clear white beard, he always wears a long red robe. He is always willing to help the poor by sending presents to them.

Usually on the night of December 24th each year, from the cold northern land, Father Christmas is accustomed to leaving some gifts on the beds of children or in their stockings. There is no doubt that children will get greatly excited and happy when they eventually find that their stockings are full of gifts though the gifts are always put by their parents at night.

In this jubilant festival, iBoard also plans to give children a sincere gift that let children spend a more happy study life! iBoard is committed to providing excellent intelligent education solutions, providing more powerful support for children's happy learning and happy growth, and bringing more hopes and possibilities for children's efficient learning. In the hopeful Christmas, this is the most sincere gift that iBoard intends to put into children's stockings.

In order to fulfill the promise to children, our company has decided to increase research and development in the new year, continuously carry out technological innovation and solution innovation, provide better products, solutions and service, effectively reduce teaching pressure for educators, and make unremitting efforts on improving teaching efficiency and quality.

In retrospect of the past year, we sincerely thank all the customers for your support to iBoard. In the past year, we have received your tolerance, encouragements and more recognition. Thank you for your lasting company. We firmly believe that we will continue working together to bring more possibilities and hopes for the education informatization industry! At the same time, in this happy time, may you a happy Christmas, a happy new year and a happy life every day!