Iboard shares since it is established , has been concerned about the development of education industry, and actively promote technological innovation, product innovation. Through ten years of hard work, Iboard has achieved brilliant results, has won the recognition of the majority of users. On August 21, the Ecuadorian ambassador to Cuba, a couple of iboard clients of the United States to visit the Iboard and communicate with each other.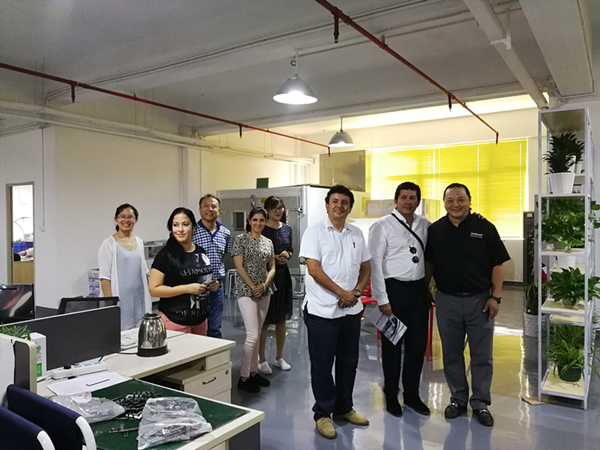 Visiting guests in Iboard talked to general manager Xu Jun, foreign trade director Echo Guo accompanied, visited Iboard Shenzhen headquarters, detailed understanding of the company's development history in recent years, the Ecuadorian ambassador to Cuba for the Iboard shares in the educational equipment cause and the education of information on the road achieved high praise
During the visit, the head of the Foreign trade department, Echo Guo, introduced the Iboard product's convenient use and product characteristics in the headquarter, and answered the questions of the guests. Through this visit and exchange, the Ecuadorian ambassador to Cuba has made an in-depth understanding of the Iboard shares touch machine, laser projector, multi-media teaching machine, electronic whiteboard and smart class card, and has given great expectation to the future development plan. Iboard shares will also use more advanced products and better services to assist the development of educational equipment industry.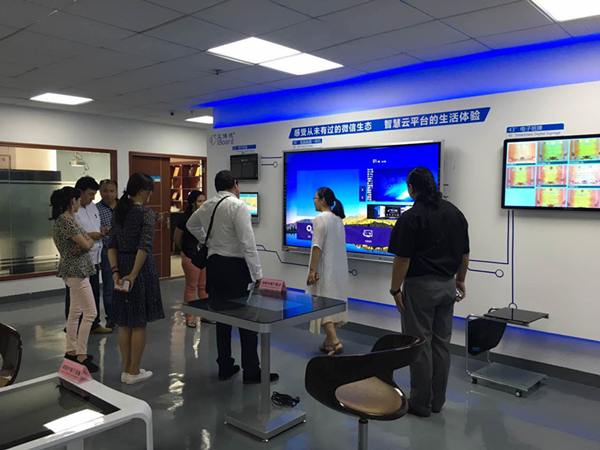 Subsequently, the Ecuadorian ambassador to Cuba and a couple of people and Iboard general manager Xu Jun, foreign trade director Echo Guo arriving Iboard and come to visit Dongguan factory .Then enter into the factory in the eyes of the bustling, busy production of the prosperous scene. Although so busy, all the production, installation, testing, packaging and other processes are in strict accordance with the quality standards of the orderly, to ensure that all equipment high-quality factory. During visiting to the factory director also shown processing link to the guests detailed introduction, explanation, so that guests have a deep understanding of Iboard a finished machine behind each process. At the end, the Ecuadorian ambassador to Cuba and the wife of the Iboard expressed a high degree of recognition.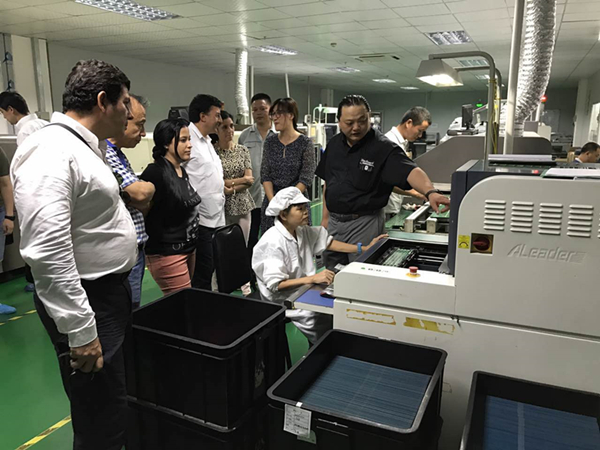 In recent years, Iboard shares conformation to the trend of national industrial integration, and constantly through their own technology research and development and with the industry giants with deep cooperation, combined with the actual education market, the introduction of more in line with the needs of users of information equipment.Iboard is well received by education users. At present, Iboard have beeen a leading brand of a variety of products not only in the industry's educational equipment giants, but also in the global interactive multimedia equipment field.
In the future, Iboard stock will continue to move forward, repay the trust of customers, maintain the consistent development strategy, take the customer-oritated, provide the highest quality products and services, play the role of leader in educational equipment industry, actively take social responsibility, expand public welfare undertakings, and create more social benefits.