On May 16 this year, the annual EDIX was held at the Ming International Exhibition Center in Tokyo, Japan. The exhibition lasted for 3 days, attracted many education industry related people from Japan, Asia and other countries. As the world's leading intelligent education solutions provider and operation service provider, iBoard appeared with its brand StarBoard and many other products.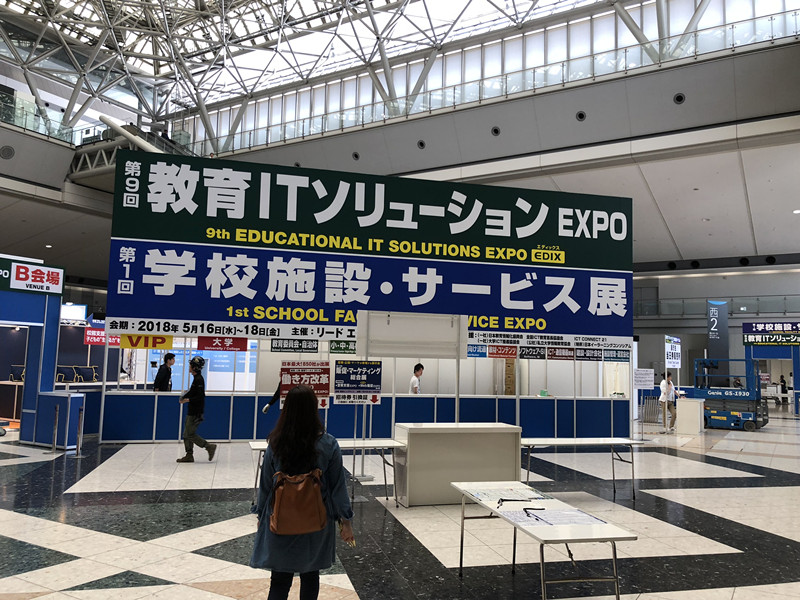 EDIX is held under the auspices of Reed Exhibitions Japan Ltd, it is the 9th session in 2018, and it is Asia's leading professional trade fair in education technology industry, there are 495 exhibitors and 30,518 professional audience in last session. The attendee this time mainly involved educational equipment dealers, distributors, teachers, purchaser, related officers in the government and education department. The exhibits cover school operating equipment, teaching materials and equipment, electronic teaching, campus security and so on.
iBoard integrates all kinds of resources needed for education, using the technology as a tool, setting a goal of improving teaching efficiency and building modern education informatization. iBoard is committed to creating the most user-oriented product solutions with its in-depth knowledge to market application. Therefore, StarBoard specially brought the all-in-one touch machine with various dimensions, capacitive electronic whiteboard, e-chart handwriting board, ultrashort throw laser projector and other educational equipment, for showing the world's leading wisdom education solutions.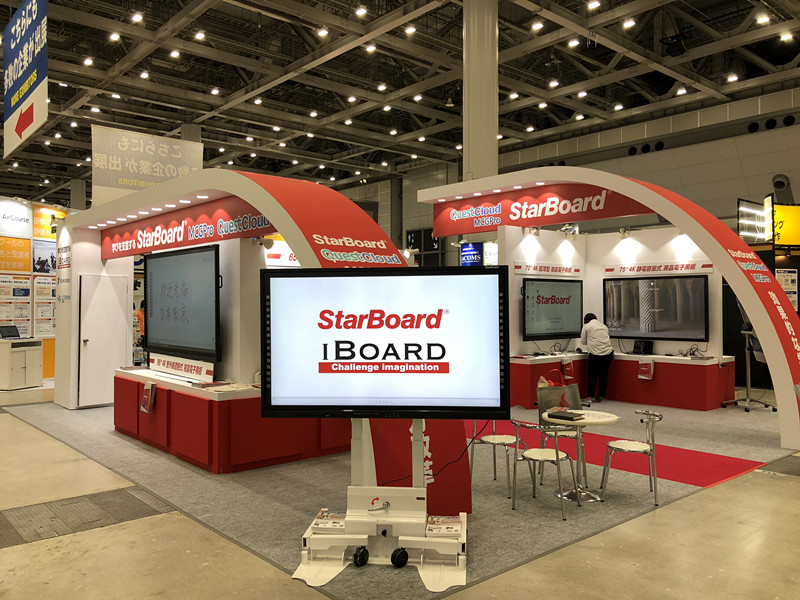 StarBoard ultra short laser projector can bring a better application environment for classroom, referring to the projection of 80-inch screen ,the distance is within 40 cm from the lens to screen, the projection light will not be blocked by the body when in use . Ultra-high brightness and ultra-long life of the light source attracted many customers. At the same time, the teaching solution which combines whiteboard interactive software with StarBoard's 87-inch capacitive whiteboard makes the entire teaching process become more enjoyable and gives people unprecedented experience.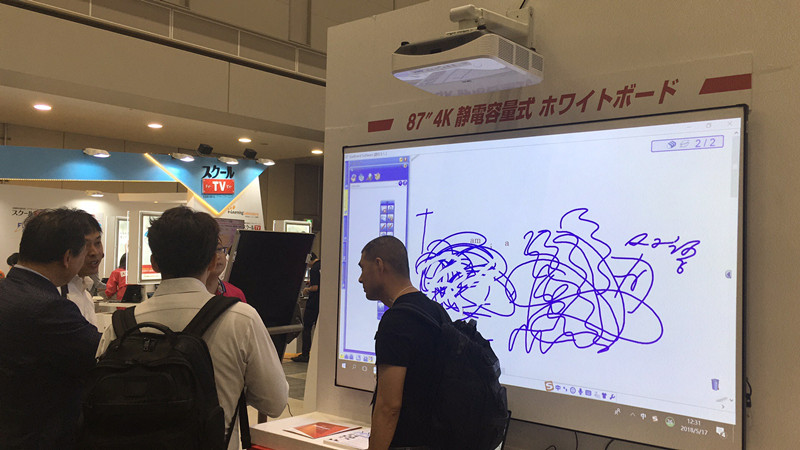 Referring to StarBoard's ultra-thin, ultra-narrow infrared touch LED machine, it equipped with 16 shortcut keys on both sides of the screen, providing functions of writing, erasing, annotation, lesson preparation, etc. And it integrated the high-speed infrared touch screen technology and the gesture recognition function which depends on iBoard's independent research and development, letting the users experience the powerful multi-point interactive touch function.
Patented products like ultra-narrow and ultra-thin infrared touch machines designed by iBoard performed stunning at EDIX, attracting lots of attention from professionals and peers from all walks of life.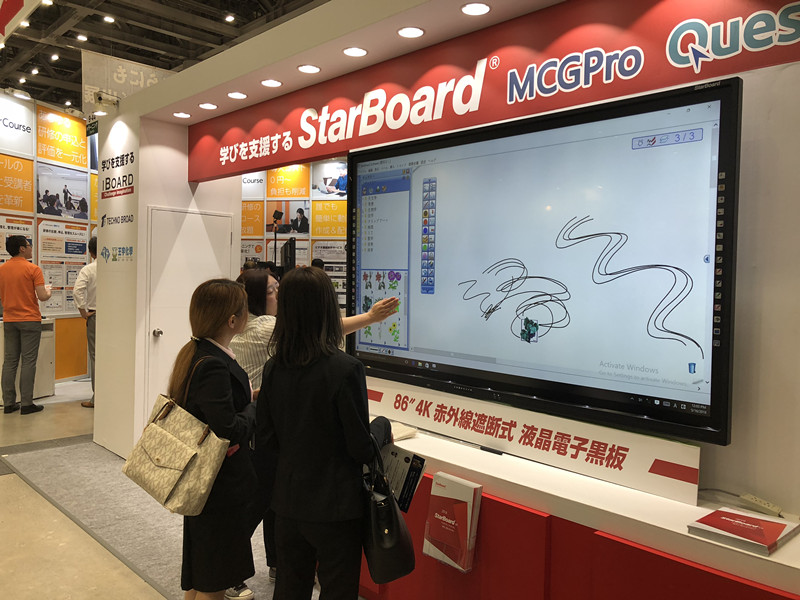 In the booth, StarBoard's 42-inch e-chart handwriting board was attractive, many people came to watch. When everyone thought it was just a simple mobile whiteboard, StarBoard's lecturer appeared, she connected the phone with the handwriting board via WiFi, and the software synchronizes the original handwriting marks on the e-chart tablet to the phone, rendering the content perfectly.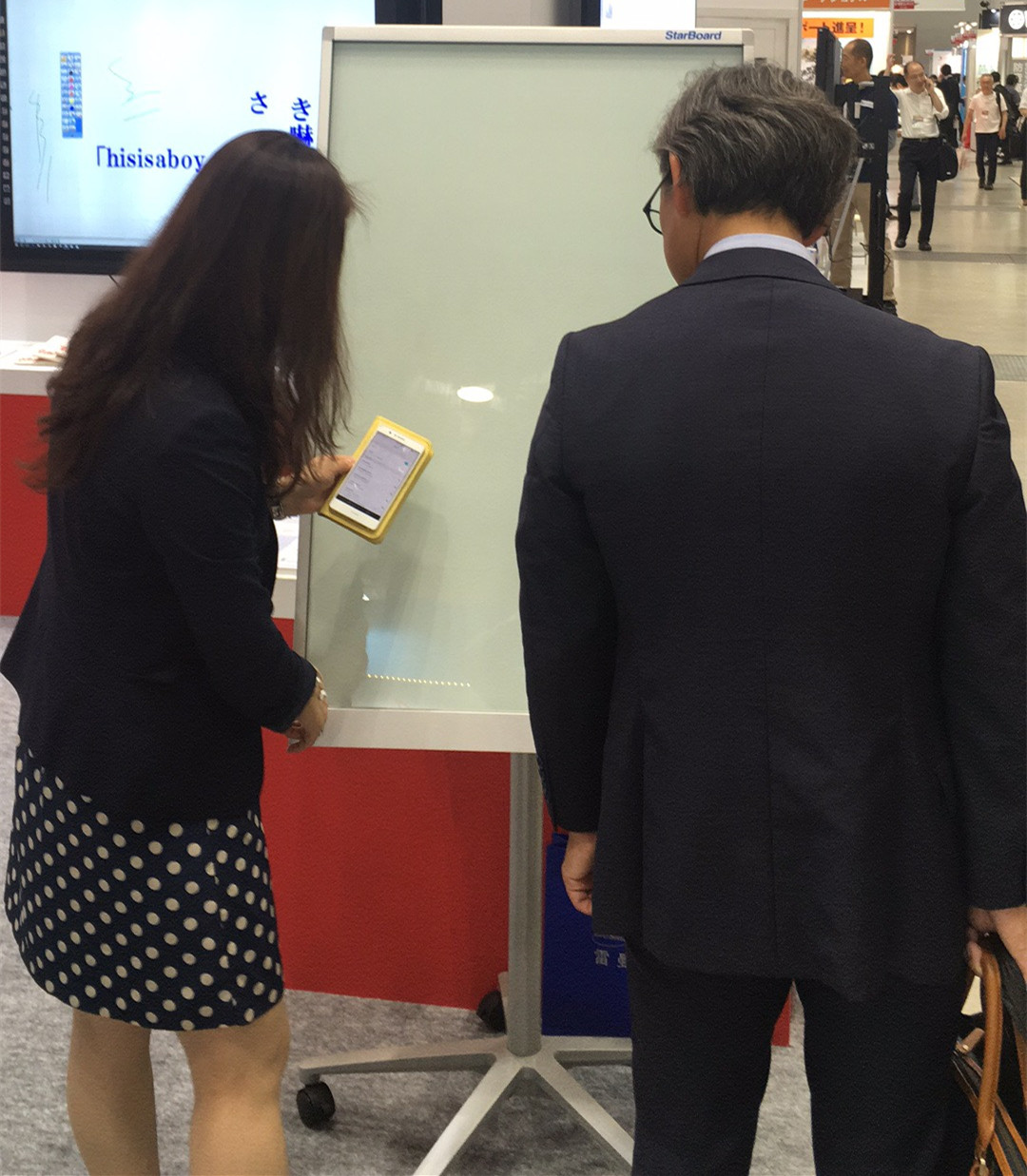 iBoard provides education users with excellent products and teaching solutions with high quality and strengths. Take a lead in the field of education equipment. Hitherto, iBoard has business that covers more than 80 countries and regions in the world and has overseas subsidiaries in Japan, the United States, Germany, letting more schools and students around the world enjoy iBoard's educational products and solutions.
Through the integration of international resources, iBoard continuously hit the global market after GESS in Dubai, ISE in Holland, Worlddidac Asia in Thailand, Moscow expo, BETT in London, Infocomm in America, dedicated to the production of teaching products and intelligent education solutions which meet the the international standard. To create a leading product ecosystem and push the development of education informationization.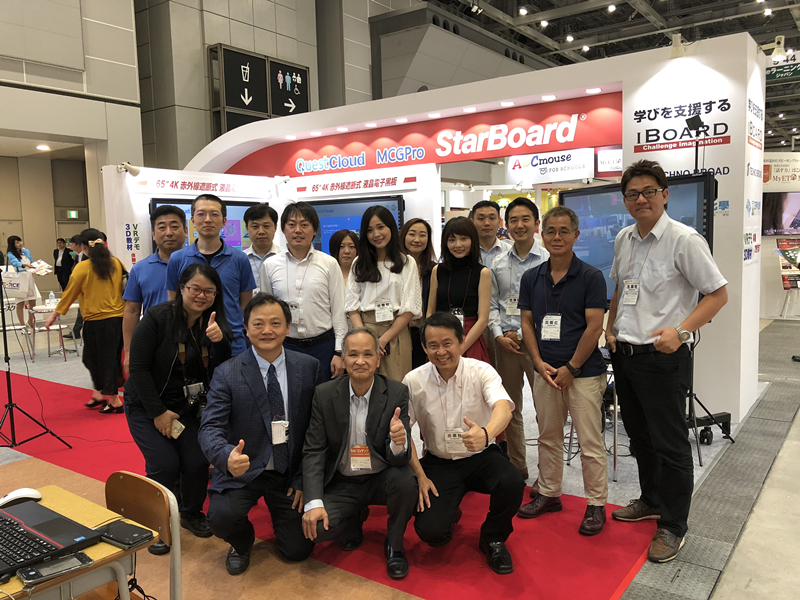 Thanks for Japanese team's cooperation and dedication to this exhibition. Go ahead, Japanese team! Go ahead, iBoard! Keep brilliant, StarBoard brand! Let us meet at Taipei International Computer Exhibition on the 5th of next month.