From May 8 to 10, 2016, the 70th China Education Equipment Exhibition will be held in Shenyang International Convention and Exhibition Center, Liaoning Province. At that time, iBoard will be on the B043 booth at E1 hall of the main hall. As a leading provider of wisdom education overall solutions, iBoard will show you the latest solutions and technologies in the field of intelligent education, and you are welcome to experience the wisdom education and teaching application system, especially the campus management system based on the Internet.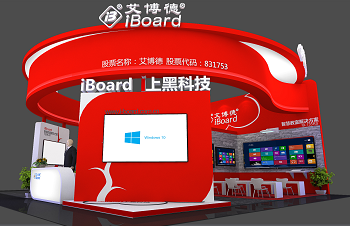 iBoard will take the wisdom education as the main line, and simulate the various scenes of the smart campus, so as to let people participate in the exhibition and pay attention to the experience of iBoard based on the Internet plus smart campus, intelligent classroom based on the Internet of things, intelligent classroom based on big data collection, large and small screen interactive classroom, Wechat School Connection and other intelligent education solutions. Through the hardware and software systems of iBoard, from teaching methods and learning. considering from the angle of view, the solutions can change the traditional teaching mode, measure from the perspective of students, emphasize the subjectivity of students, let students learn a lot more independently, cooperatively and effectively in the classroom, reflect the wisdom of the classroom in the interaction with students, build a full information, network and three-dimensional teaching environment, improve the use rate of teaching resources, and make teaching and learning interact in a easy and interesting ways to achieve the best environment in dynamic mode. At that time, iBoard will show you our scientific achievements in the process of promoting Internet + intelligence education.
  The guests presenting at the exhibition will also be able to enjoy the new experience of iBoard's "Internet + Wechat School Connection ". The campus mobile service platform adopts advanced virtualization technology, unified cloud operating system, software platform and middleware technology to form centralized and unified management, multi-level distribution and sharing, and elastic and scalable cloud computing service platform. With the opening of the exhibition coming soon, iBoard is looking forward to your participation.