2016's Taipei Computex started on the 31
st
on Taipei Nangang Exhibition Center. 269 Mainland China Computer Manufacturers came from Shenzhen, Qingdao, Xiamen, and other places. As the biggest Asian, and second biggest world's, computer fair, Taipei International Computer Fair Computex marks this year its 36
th
edition. This Computex's theme was "Building the World's Science and Technology Ecosystem", focusing on the Internet of Things' technology application, innovation and novelty, mobile devices and end sales system's business solutions, as well as e-sports, attracting 1, 602 manufacturers from both sides of the Taiwan's strait's, and from all over the world.

2016 Taipei Computex's Official Inauguration
Every major Technology Manufacturer comes with its cutting-edge products and technologies to the exhibition. Among them, iBoard brings its All-in-one Touch Screen Monitor, Laser Projector, Interactive Whiteboard and other Educational Interactive devices, unveiling it's full line of products. Based on the "Internet +"innovation's Smart Education Solutions field, attracting customers that gather on the stand.

Customers all over the world like iBoard's Interactive Products
In the "Internet +" era, the Smart Education has become a new direction of development for Education, the construction of the classroom's knowledge, developing Smart Teaching, is conducive to changing the traditional teaching methods, with instant depth of interaction for the student. At the same time can create multiple scenarios for Smart Teaching, showing integration, creativity and knowledge of highly interactive and informatized new teaching methods.
IBoard Smart Education Solutions are a suite of overall solutions integrating hardware and software. It focuses on information technology education to provide teaching, research and management tools with comprehensive IT services, software and hardware support, thereby enhancing the level of Education. Through a variety of classroom knowledge building IT integration, improving the center's learning capabilities.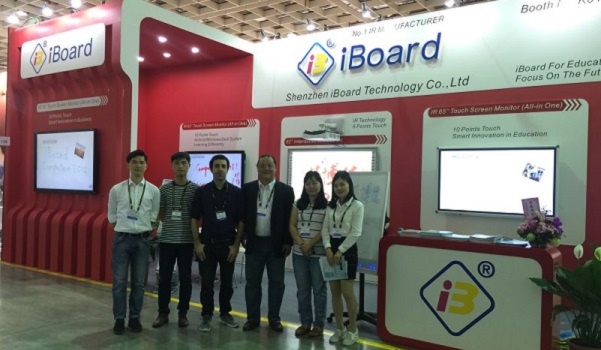 IBoard follows a customer focus, with continuous innovation based on their demands, therefore winning their respect and trust. iBoard has Infrared Touch core technology, rich experience, brave innovation, as well as a group of experienced, innovative and professional team development and application of infrared touch. We always focus on strategy, innovation, and accurately grasping the informatization of traditional education methods that brings profound changes as a trend. iBoard will continue to maintain user-centric, hardware and software products to take into account human design, to create a new interactive teaching, to achieve high quality and efficient education, and to focus on the user experience.