The baked lacquer frame, strict oxidation treatment
Border around the effect of the baked lacquer, elegance of elegant;
Using a special material board, not only when projecting is the image a soft color, but it has a great viewing angle and no bright spots.
The latest ninth generation infrared hardware technology
Ultra narrow design, Infrared PCB board width reaches 1.18cm, widely used.
Optimize amplification circuit design, build in a large number of components, make the product reliability higher and stronger.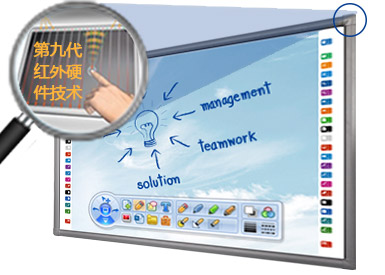 Shortcut buttons on both sides, all kinds of operation
Multiple shortcut buttons on either side of the screen, effective call functions for writing, erasing, tagging, preparing class and so on.
Using teaching software independently researched and developed by iBoard, the students learn efficiently in the teaching environment.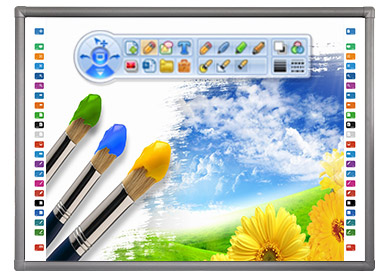 Multi-point touch technology. Gesture recognition patent
Integrating iBoard's self-developed high speed infrared touch technology, producing powerful multi-point interaction effects.
Convenient for teachers to carry out multimedia teaching, enriching teaching methods and expanding the scope of multimedia teaching.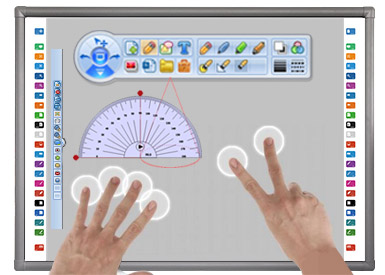 PM series
Dimensions
69inch(4:3)
78inch(4:3)
82inch(4:3)
85inch(16:9)
88inch(16:10)
90inch(4:3)
96inch(4:3)
Active size
(L*W)
1312*982
1475*1145
1638*1145
1801*982
1932*1145
1717*1227
1801*1312
Outside size
(L*W)
1429*1099
1592*1262
1755*1262
1918*1099
2049*1262
1834*1344
1918*1429
Dimensions
96inch(16:10)
100inch(4:3)
100inch(16:9)
104inch(16:9)
108inch(16:9)
120inch(16:9)
164inch
Active size
(L*W)
1965*1145
1965*1312
2120*1115
2128*1145
2327*1312
2615*1455
3863*1123
Outside size
(L*W)
2081*1262
2081*1429
2237*1232
2245*1262
2444*1429
2732*1572
3980*1240