April 15, 2018, the 123th session of China import and export commodities fair ("Canton Fair") opened in Guangzhou as scheduled. Canton fair has always been hailed as "barometer" and "Vane" of China's foreign trade, this year, the Canton Fair maintains stability in exhibition scale. Continue to be held in three phases. The total exhibition area is 1.185 million square meters, the total number of booths is 60,475, the total number of domestic and foreign exhibitors is 25,171. Iboard sincerely presented with various of products, such as electronic whiteboard, all-in- one touch machine, infrared touch screen.etc , successfully attracted many businessmen from home and abroad, and won the audience's high recognition, laid a solid foundation for further cooperation.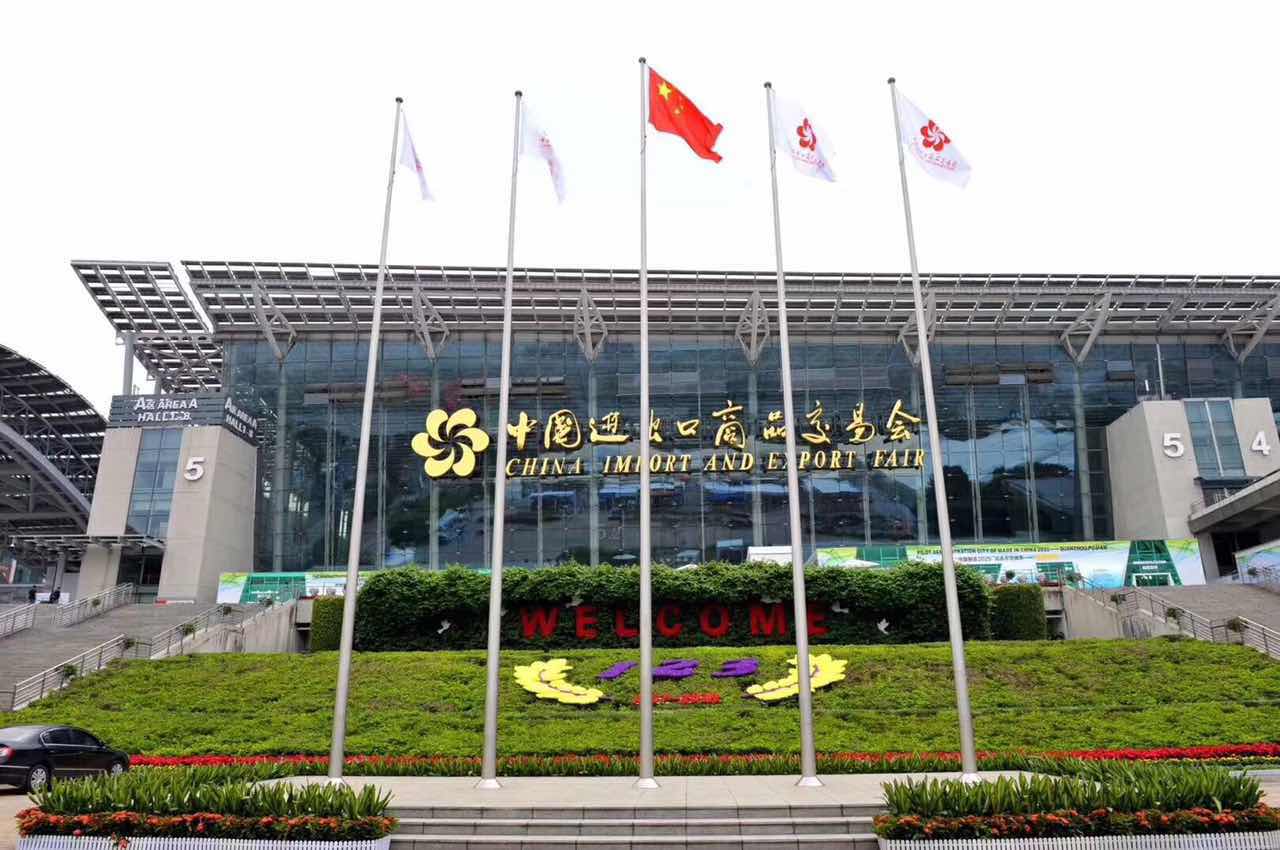 Canton Fair spokesman , deputy director of China Foreign Trade Center,Xu Bing said that United States is the second largest source of buyers in the Canton Fair, the trade friction provoked by the United States will naturally have uncertainty impact on the U.S. buyers, but the Chinese exhibitors have been actively prepared, actively optimize the product structure, develop diversified market. We also found that many export enterprises are no longer solely stare at the European and American markets, but regard some areas as potential market, such as "the belt and road" related countries and South America, Africa,some enterprises even regard them as main export market. Some exhibitors clearly said that this point has been listed as the focus of this year's development.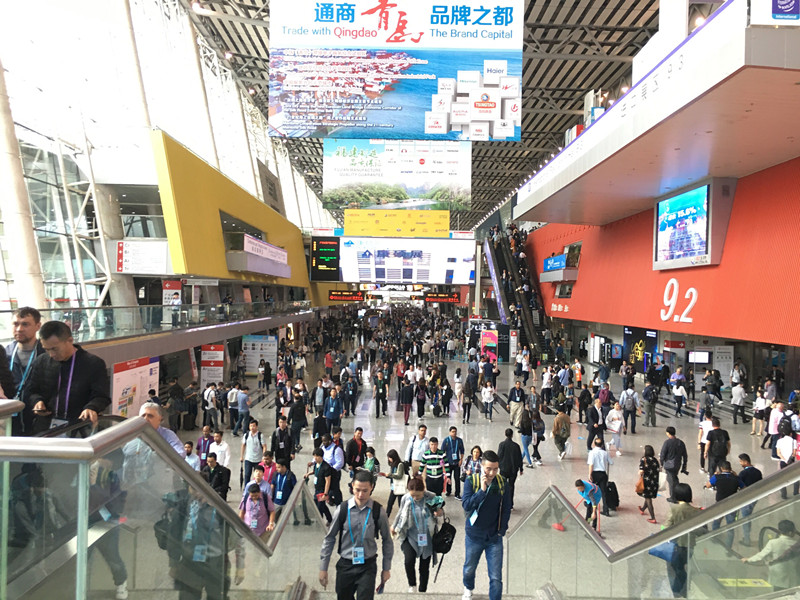 The first phase of Canton Fair was held in the time of April 15-19th, mainly display electronics and home appliances, lighting, vehicles and accessories, machinery, hardware tools, building materials, chemicals, energy products.etc. Iboard, as the leading brand in educational equipment industry, appeared at the fair with cutting-edge products, gained popularity and appreciation of customers. There are also flooded visitors.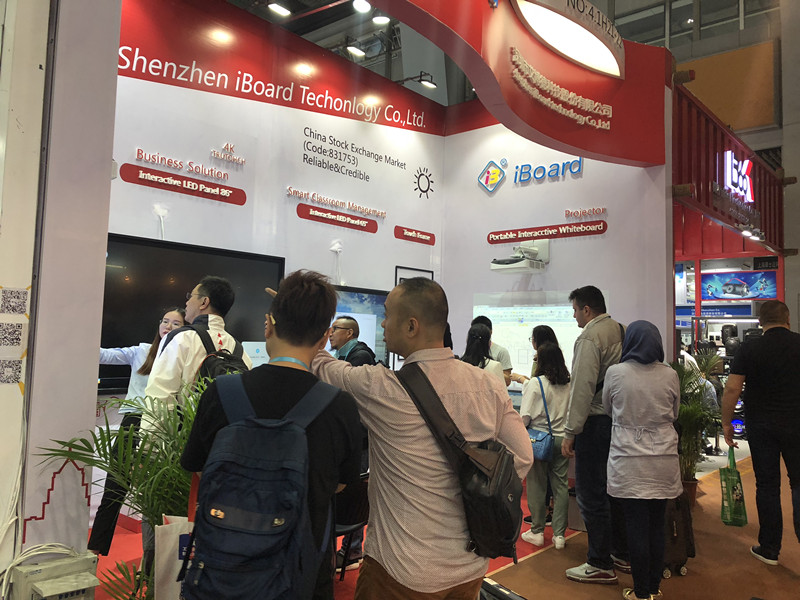 Iboard has rich foreign trade experience and can know the real needs of overseas customers to some extent. Thus Iboard showed 65-inch and 86-inch SN series all-in-one touch machine , 96-inch interactive electronic whiteboard, UA laser projector, portable electronic whiteboard , touch frame in exhibition, providing customers with different teaching options.
You can see customers listen carefully to the Iboard staff for sharing the information about interactive electronic whiteboard IB-RS96 at the exhibition , with the fingertips staggered, word, ppt, whiteboard software, video .etc all kinds of documents alternated quickly, and an Australian customer even painted a lifelike car with Iboard electronic whiteboard software ,it won the cheers. After comprehensive experience, all audience gave praise to the system stability, operation fluency, touch sensitivity of Iboard all-in-one touch machine.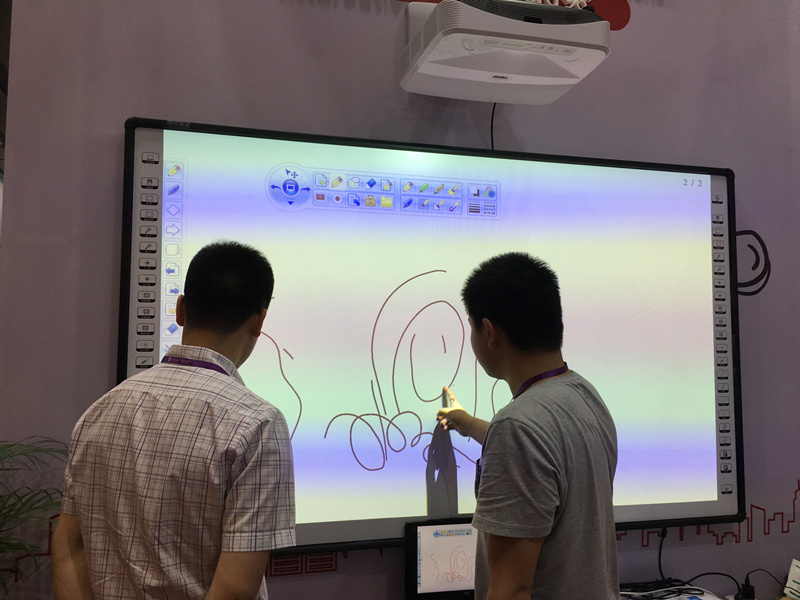 On the scene, a business man from Russia said that Iboard brand has been approved by Russian users in previous Canton Fair Education Exhibition, the improvement of its technology will bring users a better experience, he deeply impressed by Iboard's excellent quality and leading technology.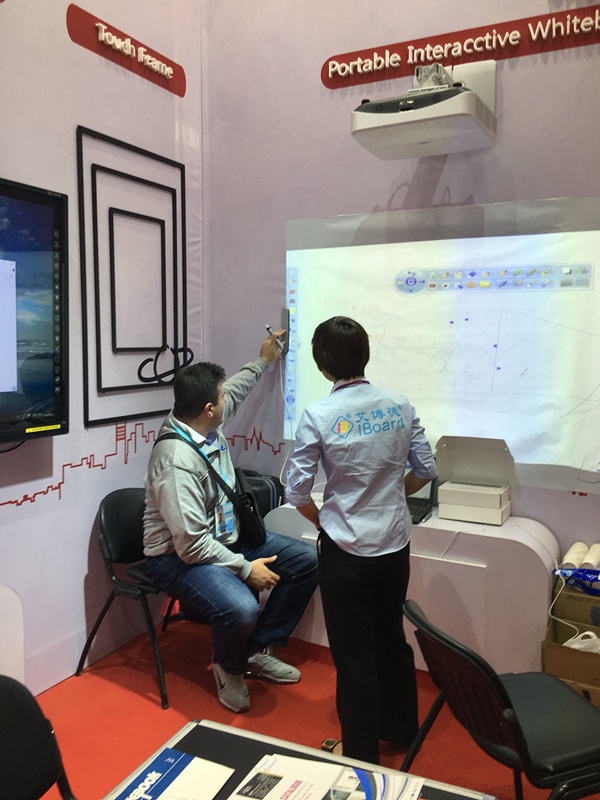 Aiming to the actual needs of consumers, Iboard developed high-end& durable products, its superior performance has won the favor of industry and international people. Iboard insist on technological innovation, at the same time, pay more attention to the production control . keep improving in raw materials control, structural design, production equipment, production technology and other aspects .In the pursuit of detail perfection, providing durable products with higher quality.
In this exhibition, Iboard staff won audience' high praise by professional, enthusiastic,considerate service , Iboard all-in-one touch machine, Ultrashort throw laser projector, electronic whiteboard and other products also have a good show. Laser Projector gradually won the user favor with its advantage,such as better display effect, higher brightness, lower product maintenance cost and no
consumable items
lifelong.etc , meanwhile economically meet the brightness requirements of large screen display . The beauty of laser lights education, Iboard laser projector perfectly interprets "best display size" needs to vast audience. Strengthen the overseas and local customer's understanding to Iboard brands, it plays an active role in creating an excellent national brand in education.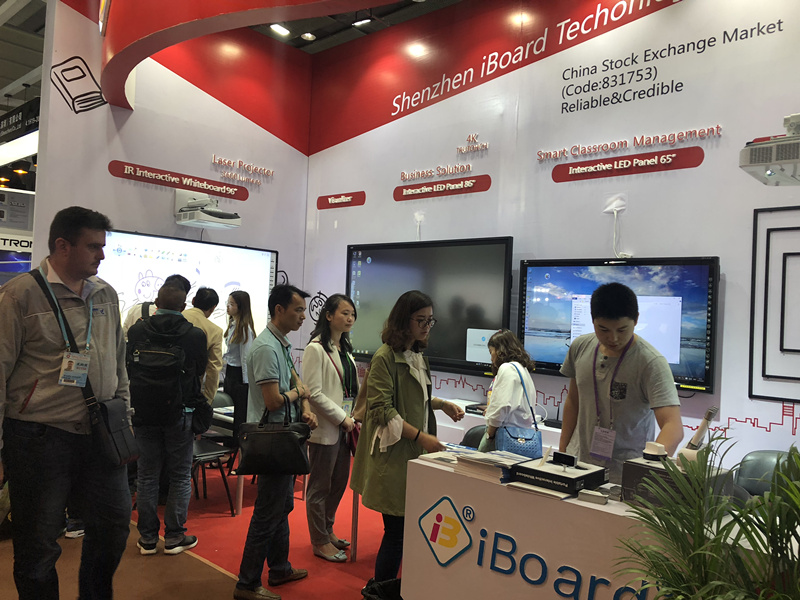 At present, based on the actual needs of users, act from the supplier side, promote technology&product&commercial mode&service&management innovation,Iboard will produce products with high quality and in line with market demand, focus on cultivating new advantage in technology, brand, quality, service, standards, promote foreign trade innovation &development.